"I will sing of the Lord's great love forever; with my mouth I will make your faithfulness known through all generations" (Psalm 89:1).
Our goal is to bring about a systematic and ordered enhancement of liturgical music along with the integration of indigenous music with the existing Liturgical music in order to bring the melancholy of orthodox authentic celestial and divine worship environment in our church.
St. Thomas Indian Orthodox Pazhayapally, Senior Choir is the main Choir of our church and it is established in the year 1995. Senior choir is actively Supporting Holy Qurbana on Every Friday morning since its beginning.
Senior Choir is registered and accredited by Sruti School of Liturgical Music, Kottayam.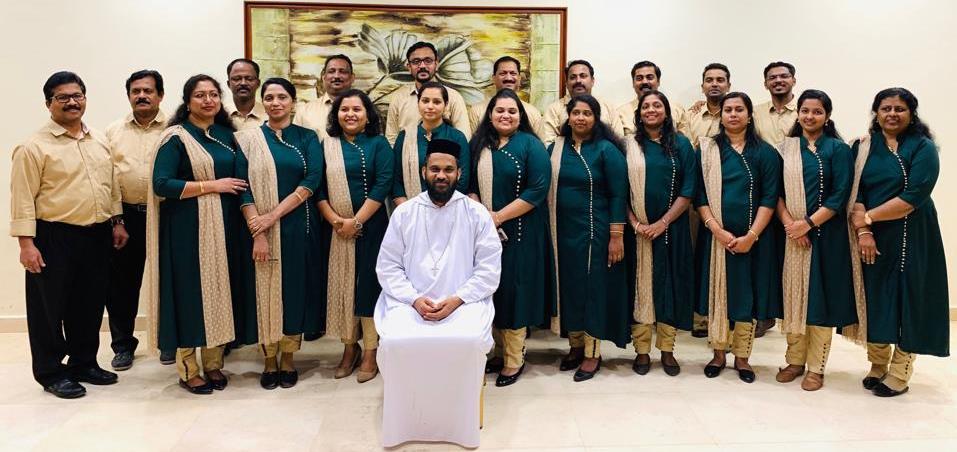 Choir Members (2019-2021)
Mr.KURIAN ZACHARIA CHOIR MASTER- KEYBOARD PLAYER
Mr.BABU PUNNOOSE CHOIR COORDINATOR
Mr.ALEXANDER ABRAHAM SINGER
Mr.GREEN THOMSON SINGER
Mr.SENU EAPEN SINGER
Mr.SANTHOSH BABY SINGER
Mr.JACOB SAMUEL SINGER
Mr.BABU PUNNOOSE SINGER
Mrs.SUJA ABRAHAM SINGER
Mrs.BINZY ISSAC SINGER
Mrs.SHANI SUSAN ANU SINGER
Mrs.ELIZABETH SOLOMON SINGER
Mrs.BLESSY PHILIP SINGER
Mrs.BIJI JOHN THOMAS SINGER
Mrs.SHINEY THOMAS SINGER
Mrs.MERLIN ANN REJI SINGER
Church Choir Co-ordinator
Mr. Babu Punnoose (Tel # 97232050) is serving as the Managing Committee representative with responsibility of the church choir (for 2023-24)